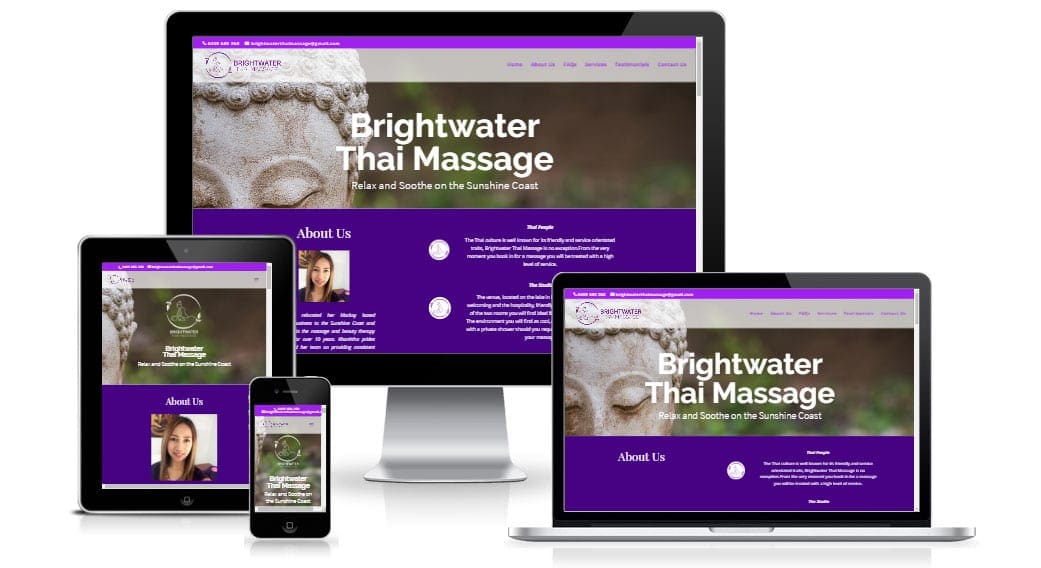 Client Name:
Brightwater Thai Massage - Sunshine Coast
Case Study:
Our client did not have an existing website and needed assistance with layout and the ideal content and helpful information to convey to viewers. Needing guidance on the layout and what content should be included which would be helpful to visitors to the site and also what should be adjusted for their branding as it wasn't quite resonating with their target market. We made a very stylish, modern site with user friendly navigation that made it super easy for visitors to their site to make contact and book in. We also helped remove confusion with the branding, and gave our client some helpful tips on showing up highly on Google search results in their area.
We LOVE the colours. We've only had one other purple branded client before, so we were so excited to know that Brightwater Thai Massage had purple branding! (Yes, we need to get out more, but still, we appreciate these awesome differences in our work with clients - we are Nerds after all!). And having been a client of Brigthwater Thai massage myself I can honestly say that their service is brilliant, their treatment rooms are designed for a very comfortable experience and I will definitely be back!
Our adjustment to the branding will be definitely having an impact and bringing in more ideal customers, and enabling them to be found and considered my more viewers. We're really happy with the project and our client is happy too!