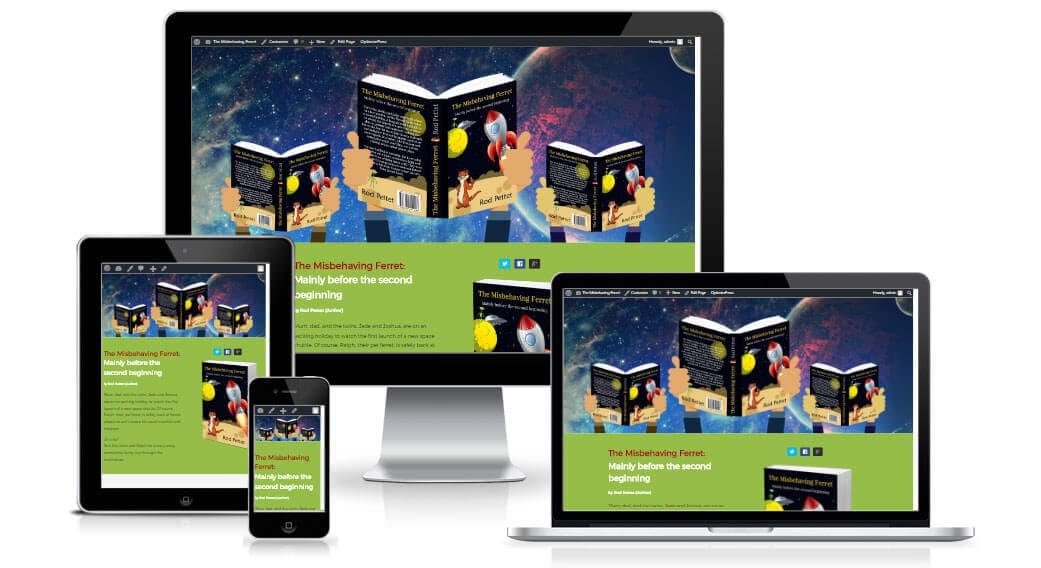 We're so excited to present this site out into the online universe! Rod Pettet is a local Hervey Bay Author, releasing his first book 'The Misbehaving Ferret' early 2017. We've sat next to Rod for many a review session at Coffee Club in Hervey Bay; from reviewing graphics providers for the front cover to discussing marketing ideas for the book launch. We're so excited this dream is now a reality for Rod and we're honoured to be a part of that journey.
Rod was needing a website that would showcase the newly printed children's book 'The Misbehaving Ferret'. The book is available from Amazon in Kindle format (include link), however the website was needed to not only promote the e-book Kindle version but to provide a place to order the physical paperback copy.
We provided advice on layout, content and setting up the payment processing aspect for online sales, ensuring there were plenty of social sharing links throughout the site to help spread the word. We ended up going with PayPal for the payment processor, which can also take Visa/MasterCard without the buyer having to have a PayPal account (a common misconception). We also covered shipping wording and enabling the capacity to change the qty purchased at checkout (great presents for the family from a local Author, and did we mention FREE Shipping Australia-Wide ?!).
One of our favourite parts of this project was creating the images used for the free colouring-in download and the one used to promote the colouring-in competition through Mary Ryan's bookstore. We think they turned out pretty cool, even if we do say so ourselves! Rod recently had a launch reading at Mary Ryan's Bookstore at their new location on The Esplanade in Hervey Bay and drew the winner for the colouring-in competition. Such cool stuff to be happening locally, we're so pleased to be a part of it.
Rod's book has now launched and is gathering momentum and sales, so if you have children or family members/friends/neighbours that have children and you're after a really cool gift or some long weekend reading material, then check out The Misbehaving Ferret (link) and support a local author!